projects:love_machine:net_art_mobile_award_2013
Network(s) Art(s) Mobile Awards 2013
Your personnal infos / Vos infos personnelles
Name / Nom :
you use artist name(s) / vous utilisez un/des nom(s) d'artiste(s) ?
birthday / date de naissance
official Address - adresse officielle*
mobile phone / téléphone mobile
Email*
juego at requiem4tv dot com
Your Website / Site Web*
add a second website / ajouter un second site web
socialnetworks / réseaux sociaux (important !)
your short biography - biographie courte*
Julien Deswaef, créateur polyvalent, tant actif dans les espaces de l'image que dans ceux du code, il présente cette capacité de transformer des «idées plastiques» en réalités numériques. Il assure avec pertinence la liaison entre les arts plastiques, le monde des images contemporaines de l'événementiel et les aspects les plus pointus en recherche numérique.
Derniers projets:
"Design with Git", outil de visualisation et de collaboration pour graphistes, Medialab Prado, Madrid.

"uHbench, banc public open source", design d'objets libre, Belgique, France, Espagne.

"A l'angle du cercle", application web en collaboration avec Jean-François Jacobs (texte), Carl Roosens (dessin) et Pascal Mohy (son).

"Left arm of Buddha", spectacle musique exotica, projections video en direct.

"Rouge!", spectacle de conte augmenté, dessin à la palette graphique.
Artistic practices / Pratiques artistiques
  coding
  game
  generative art
  hacktivism
  installation
  interactive
  live coding
  multimedia
  net/connected art
  performance
  software art
  video (mono)
  video (other)
  web art
Softwares/Coding Competences - Compétence code/logiciel*
ajax arduino/freeduino & co blender fluxus html5/css javascript live livecode mysql open source processing python other/autres
Personnal Files to upload - Fichiers Personnels à télécharger
your complete CV file (.pdf) / CV complet (fichier pdf)*
Your project / Votre projet
Installation/Performance OR / OU "Emergences" submission / dépôt*
Title of your project / Titre de votre projet*
Team / Equipe*
year of creation - année de création*
specify your project / préciser votre projet*
  coding
  game
  installation
  interactive
  net/connected art
  software art
  web art
more categories / plus de catégories
facebook, social media, automated love, noise
techniques used / techniques utilisées*
Python, Selenium Webdriver, Javascript
project : short description - description courte du projet*
[loveMachine] est une application (ou, comme j'aime à l'appeler, un robot) qui va se logger dans votre compte Facebook, cliquer sur tous les "like" présent dans votre "timeline" pour terminer par poster en statut le nombre de clicks réalisés, puis se délogger.
Si votre nombre d'amis sur Facebook est important, le nombre de chose à voir, à lire et à "liker" est certainement tout aussi grand. Comme tout le monde aime bien recevoir des "like" et que les journées ne comptent que 24h, [loveMachine] est là pour vous aider. Grâce à cette application, vous pourrez distribuer du bonheur à vos amis (c'est-à-dire, "liker" tout ce qu'ils postent), sans vous fatiguer. Et pour montrer à quel point vous êtes gentil et attentionné, le nombre de "like" que vous aurez donné sera publié dans votre satut.
Cela vous intéresse ou cela vous fait peur ? Pourriez-vous déléguer vos actions sur les réseaux sociaux à un programme informatique ? Pensez-vous que votre représentation sur Facebook à une influence sur la manière dont les gens vous perçoivent en dehors ? Jusqu'à quel point votre profil sur les réseaux sociaux est-il un miroir de votre personnalité et de vos préférences ? Quelle démarche entreprenez-vous pour limiter la récolte d'information à votre propos par Facebook ? Avez-vous des amis Facebook racistes, agressifs, harassants, embarrassants ? Que faites vous pour améliorer votre vie sociale sur internet ?
[loveMachine] est un projet de logiciel artistique (software art) créé par Julien Deswaef et publié sous licence libre.
short biography of the project (previous presentations, awards...) / courte bio du projet (présentation(s) précédente(s), prix...)
2011 : Premiers scripts et tests. Activation du programme pendant 2 mois sur mon propre profil jusqu'à la désactivation de la fonction "like" par Facebook pendant 48h.

2011 : Intégration au sein du collectif FBResistance.

2012 : Présentation du projet au Baltan Laboratories lors du workshop "FaceSponge" avec Aymeric Mansoux et Dave Griffiths.

2012 : Demande de financement auprès de la FWB pour développer l'application. Refusé.

2013 : Présentation du projet au Medialab Prado, Madrid, pendant Interactivos?13
.
short technical sheet*
Un ordinateur avec firefox, python et selenium installé.
comments / commentaires
Project files to upload / Fichiers du projets à télécharger
Please, help us to share your work… upload some good visuals and texts for your project (or that represents it)… S'il vous plaît, aidez-nous à communiquer votre travail… télécharger de bons visuels et textes pour votre projet (ou qui le représente).
visual 1 (300 dpi)
visual 2
visual 3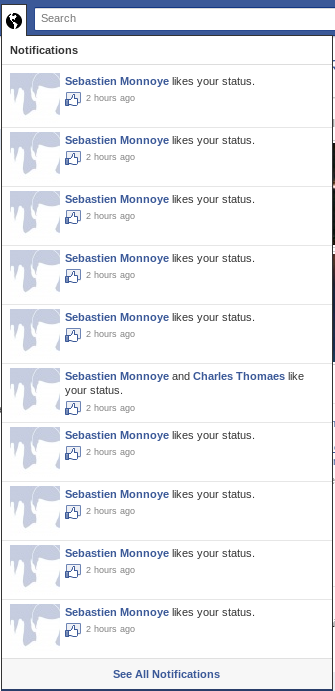 upload more visuals / plus de visuels
links on socialnetworks / liens sur réseaux sociaux
more links of your project
CV(s)
If you are more than one : a complete CV of all members - Si vous êtes plusieurs, un CV complet de tous les membres
the presentation file of your project (pdf) / un dossier de présentation de votre projet (pdf)
loveMachine-presentation.pdf
technical sheet / fiche technique
if you have one / si vous en avez une
projects/love_machine/net_art_mobile_award_2013.txt · Last modified: 2013/09/01 19:35 by Julien Deswaef
---